Thai Aroma Oil massage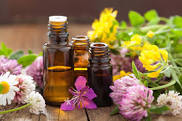 Thai Aroma Oil massage involves gentle manipulations (Effleurage, petrissage, scooping, etc), ten of the Sip Sen lines ("Energy" lines) and, of course, essential oils. 100% pure extracts from plants, trees and flowers applied on the skin, and diluted with vegetable oils to avoid irritation. Aroma Oil massage is not to be confused with "oil massage", using only oil without essential extracts. It is usually performed on a massage table.
Benefits
Not only aroma influences the brain by working on the mood but essential oils may have pharmacological effects. They are know to promote relaxation and well being, release muscle pain, and enhance energy. They all have their own healing properties. The therapist will choose the carrier oil and the essential oil according to your condition and expected effects.
For example, sesame oil is grounding and coconut oil is cooling while lavander essential oil is relaxing while lemongrass , uplifting.
Good to know
All carrier oils and essential oils used should be pesticide-herbicide free and high quality. Make sure to inform your massage therapist about any health issue or allergy you may have and, if apply, ask your doctor if you are pregnant beforehand (since some essential oils are contraindicated during pregnancy)