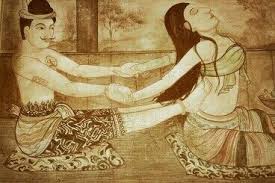 What's Thai Yoga Massage? (*)
The Thai Yoga Massage is a therapeutic system that combines the benefits of Yoga and massage.
Although it was initially conceived to be done on a mat, it could be perfectly adapted to a massage table or chair, having the client fully dressed in comfortable clothing. It's fully customized to the client's needs and could achieve surprising results reducing stress, tensions, improving flexibility and promoting relaxation.
The principal element in the practice of TYM is "metta", meaning unconditional love and compassion. The notion of metta is not confined to Buddhism; it's a universal principle that can be applied within one's own tradition or belief.
(*) based on 'The Essential Guide' by Kam Thye Chow and Sukha Wong